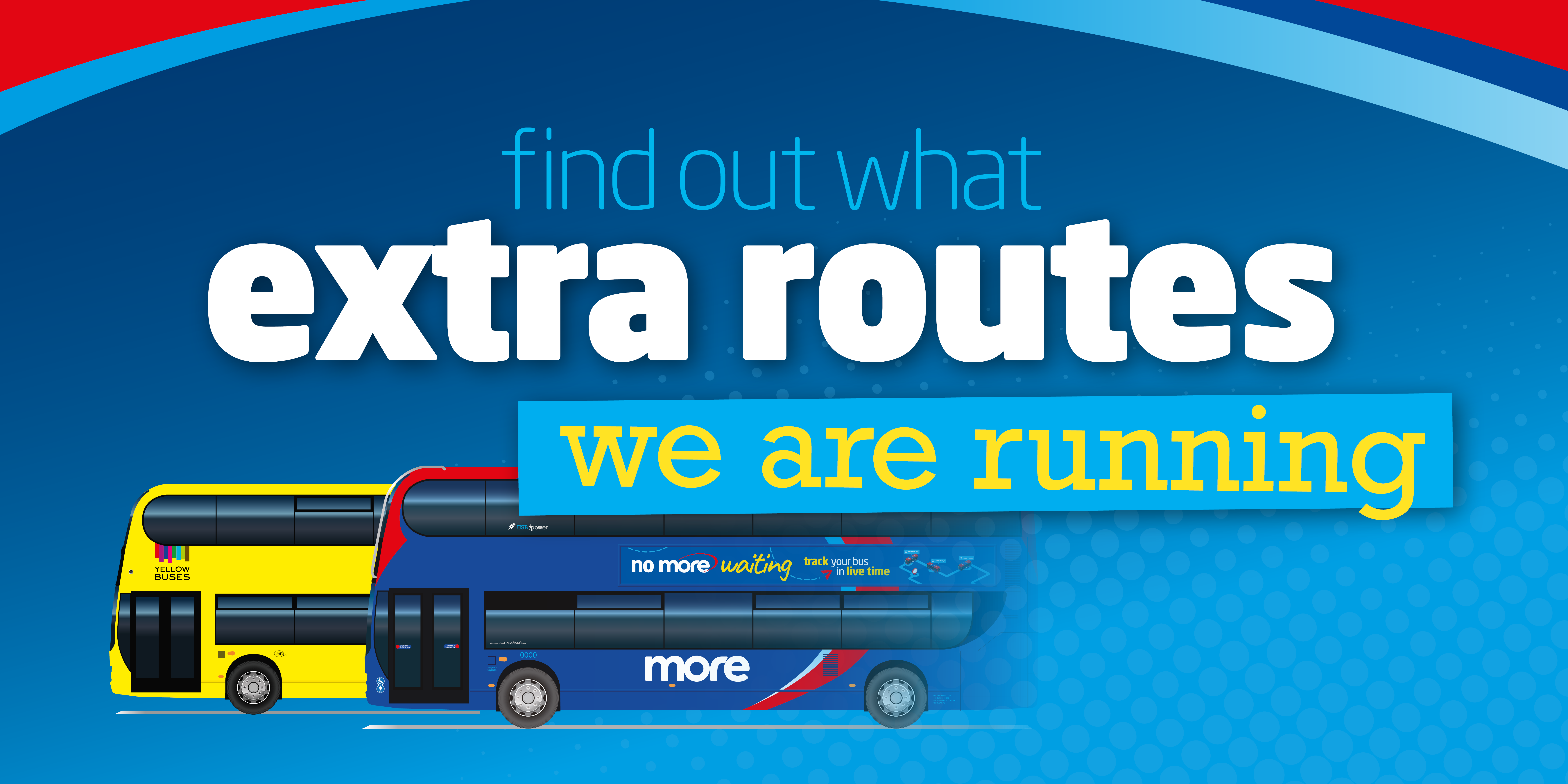 Following the news that Yellow Buses has entered administration and will cease trading later this week We are stepping in to run more services across Bournemouth from Saturday 6 August.
We understand that there will be many residents across our region who will be impacted by this, and we are pleased to announce we are running the following routes.  However, it is important to note that these are not the same timetables and in some instances, the route has been slightly altered.  These timetables are the basic frequencies we can offer to begin with, using available buses and drivers.  We will review if we can offer better frequencies in the near future once we have the resources to do so.
We have moved additional vehicles to the area, in order to provide the service needed - including 15 brand new Euro 6, low emissions, buses that Morebus and Bournemouth University have invested in. These were delivered ahead of schedule and are ready for the road - so that our current fleet can be used to fill the gaps left by Yellow Buses.
Routes
Routes 1/1b - Bournemouth to Christchurch, Two Riversmeet via Boscombe, Fishermans Walk, Southbourne (1) OR Cranleigh Road (1b) and Tuckton up to every 30 minutes each. Common sections of the routes will be every 15 minutes. The Westbourne, Branksome & Poole sections will not operate but our more bus m1/m2 routes serve these areas up to every 7 minutes.
Route 1a - Bournemouth to Somerford via Boscombe, Iford, Barrack Road & Christchurch up to every 15 minutes. The section that used to operate to Highcliffe & New Milton will not run, but customers can use the existing more bus X1/X2 routes.
Route 2 - Bournemouth to Castlepoint via Station, Springbourne, Boscombe, Iford, RB Hospital & Townsend Estate (although it does not serve Townsend Estate in the evening) up to every 30 minutes. The section that used to serve past Castlepoint to Moordown, Kinson & Bearwood will not operate but customers can use the more bus route 14 between RB Hospital, Castlepoint and Kinson instead.  Route 6a will connect Kinson and Bearwood.
Route 4 - Bournemouth to Castlepoint via Station, Winton, Moordown & Muscliffe up to every 30 minutes. This route will then continue as a route 2, so for those needing Royal Bournemouth Hospital and Iford you can stay on the same bus.  However, it will not continue to Christchurch.
Routes 5/5a - Bournemouth to Kinson via Station, Charminster, Winton, Ensbury Park, East Howe (5), Cunningham Crescent (5) OR Columbia Road (5a), Maclean Road (5a) and Moore Avenue. Will run up to every 30 minutes on each route, and every 15 minutes on the common sections.
Routes 6/6a - Bournemouth to Bearwood via Station, Winton, University, Wallisdown, & High Howe up to every 30 minutes. Extending beyond Bearwood to Wimborne (6) and Kinson (6a) up to every hour
Route 737 - Bournemouth to Airport via Station, Winton, Moordown, Parley & Aviation Park. There will be 2-morning journeys to Airport and 3-afternoon journeys returning.
*****UPDATE***** we are now pleased to advise that morebus will also start running routes 18, 33 & 36 from Saturday 6th August!
Route 18 - Bournemouth to Broadstone via Westbourne, Upper Parkstone, Dale Valley Road, Canford Heath, Waterloo Estate & Hillbourne up to every Hour Monday to Saturday
Route 33 - Bournemouth to Christchurch via East Cliff, Boscombe, Littledown, Royal Bournemouth Hospital, Southbourne, Broadway & Kings Avenue up to Hourly on Monday to Saturday
Route 36 - Talbot View Estate to Kinson via Bourne Valley, Bournemouth, Glenferness Avenue, Fern Barrow, Wallisdown, Turbary Park Avenue & Anchor Road up to Hourly Monday to Saturday
View our new routes on a map
For all other morebus routes and maps please see our timetable section
Fares
For the first seven days of us running these routes, as a good will gesture we will accept any valid yellow bus period pass tickets and staff passes on all of our services within zone AB until Saturday 13 August.  Please make sure you show our drivers your pass with the expiry date clearly displayed.
At more bus we have three simple fare zones, zone A, zone B and Zone C.  See our map which clearly marks the boundary points.  You can of course use all existing morebus routes that fall into each area as well.
For regular travellers, the best way to buy a period pass or bundles of day tickets is via the more bus app.  The app has many other benefits including the ability to track your bus in live time, plan a journey, personalise the app to your most used screens and much more.
Single and on the day fares
All our buses accept contactless payments via tap on and tap off, so you don't need a paper ticket.  Just tap on with your debit/credit card or apply/google pay and tap off at the reader by the exit door as you get off.
Return and group tickets are available, and these can be paid for via contactless, but please tell the driver the ticket type you require first.
We do accept cash, but large notes may cause a problem as our drivers can run out of change.
Child fares
Child fares are available for those aged 7-18.  Up to two children under 7 can travel for free with a fare paying adult, including a concessionary pass.
For children who travel regularly we recommend buying via the app and completing a one-off verification process.
All our fare information can be found here
Yellow buses drivers and other staff
For those employees who previously worked for Yellow Buses, and who are interested in joining Morebus we'd love to hear from you.  Morebus is increasing its rate of pay from this coming Sunday 7 August, to £13.00 an hour. And, for a limited period, we will continue to offer our £2,000 welcome bonus for anyone who joins with a PCV licence. We will be announcing details on Thursday 4 August of our recruitment centre which will be open from Friday morning, where we will ask you to turn up in person if possible. If you're away on holiday you can still apply in the normal way apply here
Serving the community
More bus is proud to be stepping in at such short notice to keep our communities running.  We look forward to welcoming new colleagues and customers from Yellow Buses on board, as we look to transform Dorset bus services for the better over the coming months and years.
Image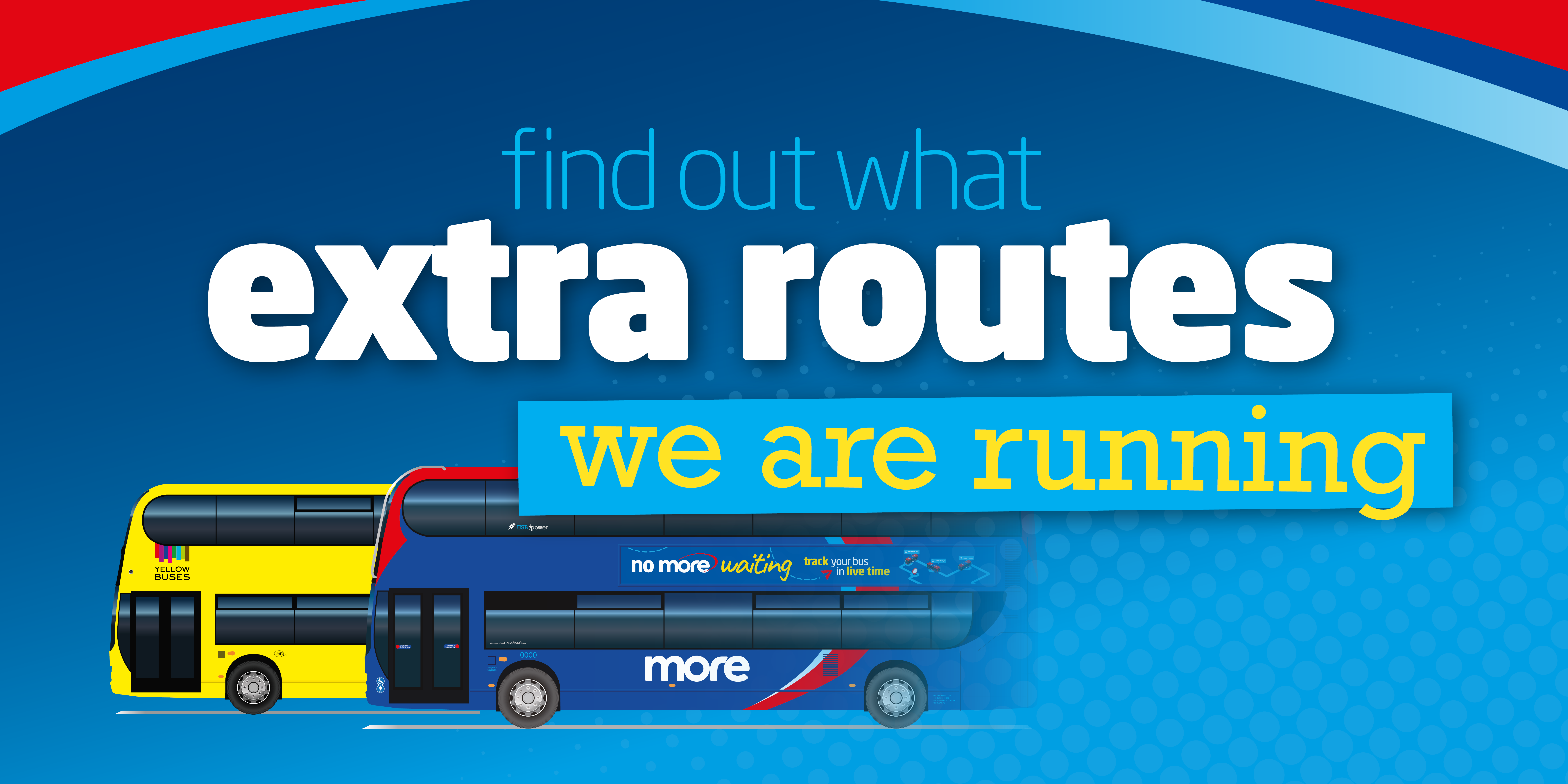 User login